Change or refine your search
All prices are indicative until confirmed at booking confirmation
Mediterranean Odyssey - 14 Night Fly, Stay, Cruise PACKAGE (NCL3642)
Mediterranean Odyssey - 14 Night Fly, Stay, Cruise PACKAGE - Venice to Rome (NCL3642)
Tour Departure: Oct 26, 2019
---
---
Inclusions:
14 Night Package includes;
• Economy Class airfare from Australia to Venice & returning from Rome
• 1 night pre-cruise stay at Hotel Papadopoli Venice , including breakfast
• 12 night voyage aboard Norwegian Spirit, sailing Venice to Rome
• 1 night post-cruise stay at Empire Palace Rome , including breakfast
• Transfers in Venice & Rome (between airport, hotel & port)
• Port charges, government fees and air taxes
---
Itinerary
Day 1 - 2:
British Airways
Depart from either: Sydney, Melbourne, Brisbane, Adelaide, Perth
To: Europe
SPECIAL FARE
SALES VALIDITY: 7June2019
FARE TYPE: Economy Booking Class O/S
CHANGES/CANCELLATIONS/FEES: For further information refer to the Terms & Conditions located on our website.
CODE BAEUR901AUWLXRT1Y1
Day 2:
Private Boat transfer Airport to Hotel
Day 2 - 3:
Hotel Papadopoli Venice
The four star, Papadopoli Venezia - MGallery Collection, is found right in the heart of the old part of Venice. Near shopping, sights and attractions, this hotel is the perfect destination for those who love to shop and sight see. Located near important attractions such as the Rialto Bridge, Basilica dei Frari and the Grand Canal, the hotel is easy to get to from the mainland and even other parts of Venice.
Day 3:
Private Boat Transfer Hotel to Port
Day 3:
Venice, Italy
Sat 26 Oct 2019
Depart 5:00 PM
Day 4:
Dubrovnik, Croatia
Sun 27 Oct 2019
12:00 PM to 9:00 PM
Day 5:
Kotor, Montenegro
Mon 28 Oct 2019
7:00 AM to 5:00 PM
Day 6:
Corfu, Greece
Tue 29 Oct 2019
7:00 AM to 4:00 PM
Day 7:
Santorini Island, Greece
Wed 30 Oct 2019
1:00 PM to 10:00 PM
Day 8:
Piraeus (Athens), Greece
Thu 31 Oct 2019
7:00 AM to 7:00 PM
Day 9:
Mykonos, Greece
Fri 1 Nov 2019
8:00 AM to 6:00 PM
Day 10:
Chania, Greece
Sat 2 Nov 2019
7:00 AM to 12:00 PM
Day 11:
Valletta, Malta
Sun 3 Nov 2019
1:00 PM to 9:00 PM
Day 12:
Taormina, Italy
Mon 4 Nov 2019
8:00 AM to 6:00 PM
Day 13:
Naples/Pompeii, Italy
Tue 5 Nov 2019
7:00 AM to 5:00 PM
Day 14:
Livorno (Florence/Pisa), Italy
Wed 6 Nov 2019
9:00 AM to 8:00 PM
Day 15:
Civitavecchia (Rome), Italy
Thu 7 Nov 2019
Arrive 6:00 AM
Day 15:
Private transfer Port to Hotel
Day 15 - 16:
Empire Palace Hotel Rome
Situated in the heart of Rome, between Via Veneto and Piazza Barberi in a restored 19th century palace, this hotel was once the residence for a noble Venetian family. The hotel is just a few minutes from the Villa Borghese Gardens and walking distance to some of Rome's most famous attractions such as the Trevi Fountain and the Piazza del Poppolo.
Day 16:
Private transfer Hotel to Airport
Ports of Call may vary by departure date and subject to weather and other conditions.
---
---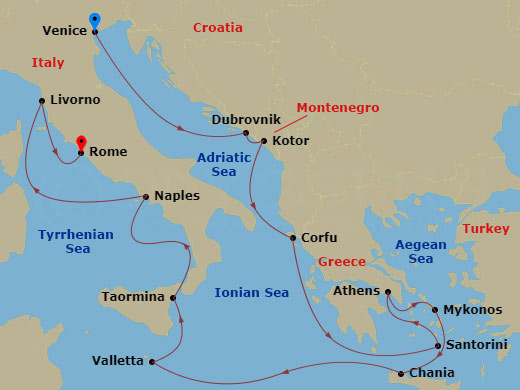 ---
CCBot/2.0 (https://commoncrawl.org/faq/)
3.208.22.127
Travel Masters
sales@travelmaster.com.au
07 5596 0511